Last month was Black history month. And one thing you don't see much of is Blacks in Japanese Street Fashion. I won't say we don't see Black people in alternative fashion because let's face it –
ALL ALTERNATIVE FASHION IS BLACK FASHION!
Yea I said it, fight me.
Somewhere along the way, from cultural swag to mainstream market, we lose credit and get buried in the mess of unknown origins. But truth is, every bit of alternative fashion that resonates with a Black soul has some rooting in Black culture. You just have to do your due diligence.
As for Japanese street fashion, there are Black culture nuances all around. And a lot of DC related ones too! We'll get to that in our ongoing time together here.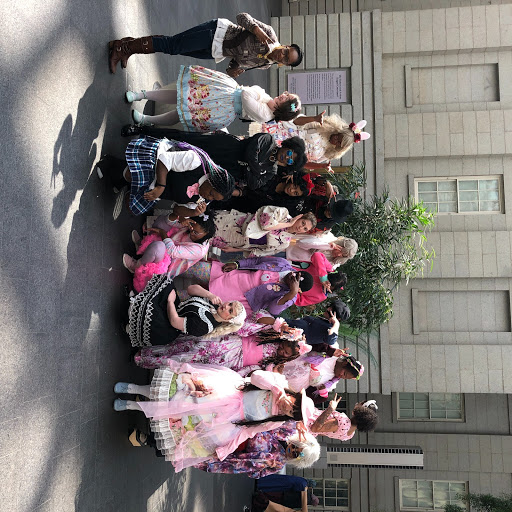 Hi, I'm Imani K Brown, DC's very own Harajuku Barbie – I am a vetted tattoo artist, self-published author and you guessed it – AN AVID J-FASHION JUNKIE.
In over 10 years, my journey in Japanese Street Fashion I've explored my blackness, my behaviors and my boundaries. All of this has been for my personal wellness and simply enjoying taking up space. But Street Fashion, especially Japanese Street Fashion is a journey. Look at me! I've gone from Aquanetta – the ratchet magical girl to Lolita Kawaii Styles and now Gyaru.
When I came into Kawaii, there weren't many other Black girls and I felt broken. I felt unseen. I felt like I didn't have my own lane. Nor did I have my own voice. So, I created one – a gal pal and named her Aquanetta, the ratchet magical girl. My hope was that one day she would help me grow the confidence and strength I would need to show up, take up space and rep for the alternative Black girl!
Style Point: Sweet Lolita & A Matching Happenstance
I wanted to become the change I wanted to see in this world. Starting with in DC!
And here we are. Over 10 years into Japanese Street Fashion and we are well on our way to sharing J-Fashion and Kawaii Style with the DC area, steady showing up for lil' sis! These days more Black girls are killing it Kawaii Style – just peep our local community DC Kawaii Style and our sub community, Afro Kawaii. Here I am both a big sister and Kawaii culture mentor, lovingly nicknamed "Mama Chan".
Style Point: Kawaii Kei & Gothic Lolita
Style Point: Manba, Gyaru substyle
Style Point: Visual Kei & Nu Goth + both Afro Goth
So,  I think it's fair to say that I've done a lot of healing for myself and these days I show up so that it gives other black girls who don't see themselves in Kawaii culture permission to do their own inner work and healing.
I want to see more Black girls and guys unapologetically take up space in Kawaii culture AND BEYOND – finding their voice and confidence. So that's where we are. I'll keep showing up. And invite you to join me …
Because when you're Black in THIS world, representation matters.
ipukekawaii.com
Imani K Brown, Author
Shoppe Gal, The Memoir – Embracing Hope Happiness & Happenstance
---